A Q&A with Jamaican-born, Victoria-based artist Charles Campbell, whose sculptural and sonic landscapes are currently featured in Fragments of Epic Memory.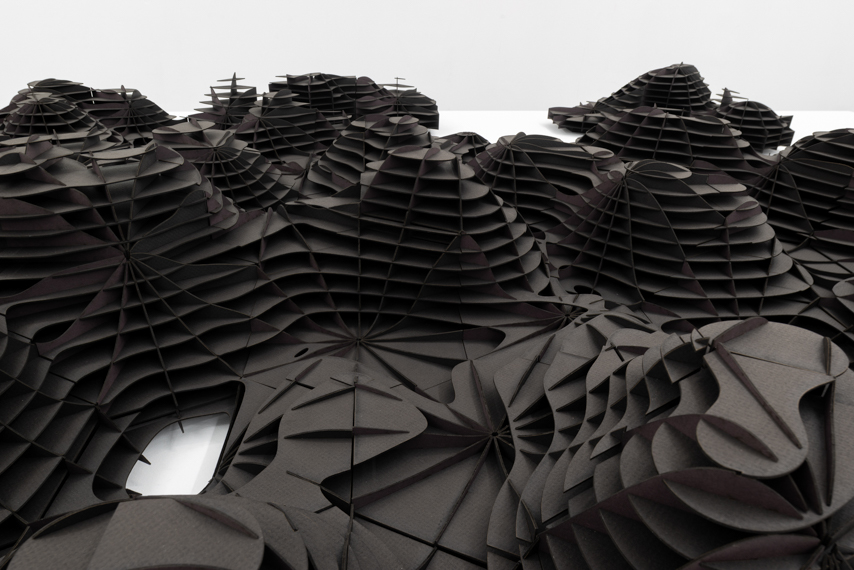 A haunting soundscape of bird song, poetry and Morse code. A monument to Black breath, inspired by a living tree. A topographic summary of one region's own brutal past.  Rich with personal meaning, multidisciplinary artist Charles Campbell (b. 1970) creates sculptural installations, paintings and soundscapes as hopeful as they are fettered by histories of racism and violence.
I spend a lot of time inhabiting my own fictions," he told Galleries West magazine in 2020, and for over three decades, the Jamaican-born, Victoria-based artist has been paying homage to his beloved birthplace, exploring his adopted home and imagining new possibilities through art and writing and performance. The former chief curator at the National Gallery of Jamaica, he has exhibited at the Pérez Art Museum Miami, Havana Biennial, Brooklyn Museum and Santo Domingo Biennial. And now, until February 21, 2022, two of his works are on view as part of Fragments of Epic Memory. 
We asked Charles Campbell to tell us more about these places and where he imagines he may go next.
AGOinsider: Maroonscape 1: Cockpit Archipelago (2019) is a three-dimensional topographic map inspired by Jamaica's Cockpit Country. Why are the contours of the land vital to how we understand its history?
Campbell: When I fly back to Kingston after any significant time abroad the moment that speaks most strongly of home is when I catch a view of Cockpit Country. The conical hills and deep hollows are like nowhere else and for as long as I can remember my imagination has taken route in what seemed like the inviolable heart of Jamaica.
The area's undulating, disorienting terrain provided a natural defense for large communities of escaped slaves, Maroons, as they fought a protracted guerilla war against British forces and slave owners. Fifty years before the start of the Haitian Revolution, Jamaican Maroons won their freedom from the colonial forces, signing treaties with the British that guaranteed their autonomy. The heroic narrative, communities of the formerly enslaved victorious over their would-be masters, remains an inspiration, even as deeper investigations of Maroon history demonstrate the challenges and compromises necessary to maintain their independence.
Maroonscape 1: Cockpit Archipelago, tries to capture some of the complexity of this history, translating the terrain into a model for the future to build upon, yet showing the fractures, dislocations and unexpected turns that are embedded there.
AGOinsider:  In Maroonscape 2: Yet Every Child (2020), you juxtapose the poetry of Black science-fiction writer Octavia E. Butler with birdsong. What led you to this pairing? Is the outcome, to your ears, hopeful or despairing? 
Campbell: Part of the impetus for the piece was to literalize the idea of nature sending us a message. Butler's Parable of the Sower deals exquisitely with the social consequences of the havoc we're wreaking on the environment, its implications for humanity and racialized folk in particular. How could she write such a prescient novel thirty years ago? She was paying attention. Birdsong (bird populations) have been declining for the past 40 years as a result of multiple, interrelated, human-caused threats. Instead of presenting a natural, continuous soundscape, the piece cuts up the chirps and trills of birds endemic to Cockpit Country to conform to the dots and dashes of a Morse code rendition of Butler's poem. I find the outcome both comforting and disquieting. These are the sounds I grew up with as a child so to my ears it's the sound of home, and a longing for repair.