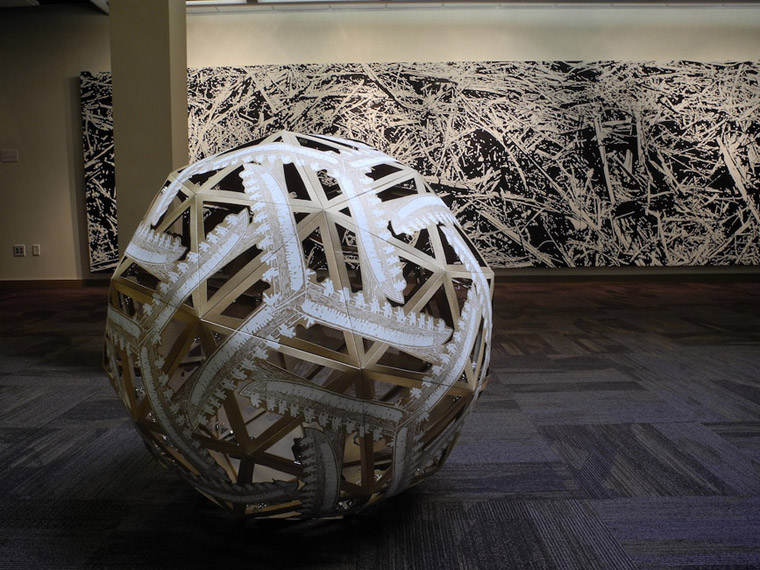 About This Project
The Transporter Project inhabits the interstices of a number of artistic, and political concerns. Begun initially as a visual investigation of the phenomenon of forced migration, the work also combines the desire to find a more material form for the motifs inhabiting my paintings with an emerging interest in the play between various aspirational futures and the present. The result is a project that converts three-dimensional forms into complex image surfaces, playing between heavily loaded political narratives and utopian ideals, object and image, public and private spaces.
Bagasse, a large black and white painting of the trash left over after sugar cane cultivation forms the backdrop for the exhibition. On the level of narrative Bagasse references the proto-capitalist economy of the sugar plantation and acts a metaphor for economic systems that view society and human relationships as bi-products. The sculptural forms point to Fuller's idea of a rational utopia, while the interwoven images that inhabit their surface suggest notions of complicity, compromise and violence. A larger versions of the domes appears as a temporary public sculpture.
The playful use of pattern and symmetry and the lightness of the sculptural objects acts as a counterpoint to the gravity of the underling issues. Here the attempt is to create objects that both engage in and defy pre-existing narratives, using beauty to contest the certainty of their meaning.